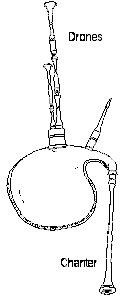 Pipes in Medieval and Tudor times came in many shapes and sizes. We don't know all about them, and there aren't any left, so we have to rely on pictures and carvings from the time. To be bagpipes, they all have a bag, a chanter, where you play the tune, and usually one or more drones. Drones each play one note all the time.
(Probably not much fun being a drone, then.)
They also have a pipe to blow the air in, called the blowpipe.