Modern Reconstructions of Historical Harps
Modern copy of Queen Mary of Scots' Clarsach - harp
The same, showing how it's played, and decoration on the front pillar. You also get a good idea of its size here.
This beautiful harp, above, is now sold, so if you were interested - sorry, you're too late!
And yes, I am missing it/her!



A Modern clarsach based partly on the Lamont Harp, one of the surviving Irish/Scots clarsachs of the 1400 and 1500's, with superb carving by Alice Margerum. Such great clarsachs have a carvings representing double headed fish on the pillar. This image is taken from the Book of Kells.
Strictly speaking, it's more recent than the medieval clarsachs in design, as the very top part is higher. They are called low-headed, this is high headed. Enough of this jargon.
Neither of these photos does justice to the lovely quality of the woodwork.
You can see the double headed salmon on the Queen Mary Clarsach too.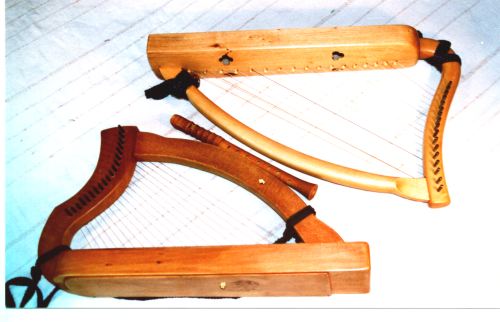 Two medieval harps, one wire strung, (the nearer one), one gut strung. They both have straps to make playing and standing up easier.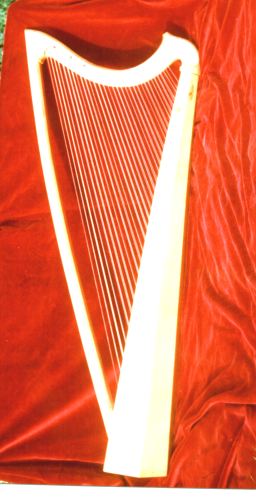 A Double harp. Most harps have a single row of strings. This one has two rows side by side... I know you can't see that detail here, believe me!
(I am hoping to get a better photo or two up here soon ..ish!)
This was to allow the harper to play more notes - just as a keyboard now has black and white notes.
This harp is about 150 cm. tall. That's still less than a modern pedal harp, which is about 180 cm. or so.

Return to the Strings page
---

Return To Home Page

---
Copyright &copy: 2000 - onwards, Richard York
Revised Aug 2005
Site URL: http://www.richard-york.co.uk